State Issues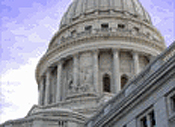 WRA's 2014-15 Legislative Report illustrates decisions made in Washington and Madison that affect the real estate industry and your bottom line like never before. These include mortgage interest, zoning, capital gains, legal liability and more.
The National Association of REALTORS®, the WRA, and the Greater Milwaukee Association of REALTORS® together as a team have stopped proposals that would have made it harder for you to conduct your business, taking money out of your pocket.
With your help and support, we have secured legislative victories that saved REALTORS® and property owners millions of dollars. Please invest in RPAC. It's a wise investment in your business.
More Resources